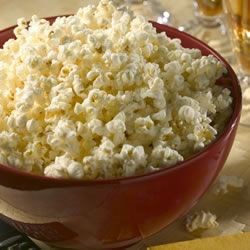 Photo courtesy of Allrecipes.com
Wow, this came out great! Just like the authentic stuff...and it only took 5-10 mins.

We kinda ate it all before I could snap a photo, so this is a photo of the recipe I based ours off of.

Ingredients
1/4 cup vegetable oil (we used canola)
3 tbsp peanut oil
1/3 cup white sugar
1/3 cup popcorn kernels
Extra sugar and salt
Directions
Heat the oils in a large pot over medium-hot heat, and add 3 popcorn kernels. When they start to pop, the oil is hot enough for step 2.
Stir in the sugar and popcorn. Cover, and shake the pot constantly to keep the sugar from burning. Once the popping has slowed to once every 2-3 seconds, remove the pot from the heat. Sprinkle a little sugar and salt over top and continue to shake for a few minutes until the popping has stopped.
Pour into a large bowl and allow to cool. Stir occasionally only if you don't want large clumps. Sprinkle with a little more sugar and salt if desired.
Note: brown sugar can be used instead of white sugar for more of a caramel flavor, but white sugar definitely hit the authentic kettle corn flavor for us.